L'International Wine Challenge giunto al suo 32° anno di attività è uno dei più prestigiosi e meticolosi concorsi di vino del mondo. Si svolge a Londra e si avvale per i suoi giudizi di notissimi degustatori e opinion-leader internazionali.  Durante i rigorosi processi di giudizio, ogni vino vincente è gustato in tre diverse occasioni da almeno 10 diversi giudici e i premi includono medaglie (Trophy, oro, argento, bronzo).
Abbiamo inviato loro 4 vini, ecco i risultati con i relativi commenti:
 Traminer passito   AUR 2011
Nota degustativa:
Lifted honey floral, almondy aroma, unctuous sweet peac, lemon rice palate. Candied sweetness flecks lift from balanced acidity. Incredibly rich and long marzipan finish.
Riesling  SCHULZ 2013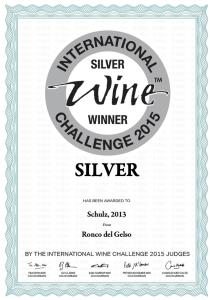 Nota degustativa:
Ripe melons, touch of coconut, flinty mineral edge. Super wine showing honey botrytis notes, candied walnuts. Wonderful acidity balances obvious sweetness. Unique wine with an abundance of personality.
Friulano  TOC BAS 2013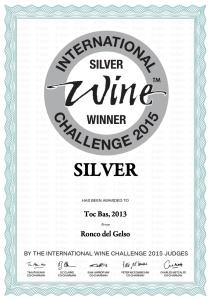 Nota degustativa:
Savoury more than fruit with subtle underlying nectarine aromas. Richly texture and quite dry yet fruit lingers at finish.
Chardonnay  SIET VIGNIS 2013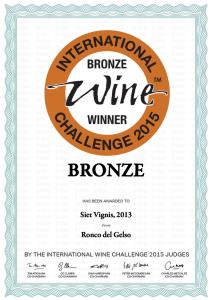 Nota degustativa:
Silky texture, balanced apple and pear, tinned peach and a lively body.
Share: